[unex_ce_button id="content_0a6ce3k7h,column_content_zkpgzazdy" button_text_color="#ffffff" button_font="bold" button_font_size="20px" button_width="auto" button_alignment="center" button_text_spacing="2px" button_bg_color="transparent" button_padding="15px 60px 15px 60px" button_border_width="0px" button_border_color="transparent" button_border_radius="0px" button_text_hover_color="#bcb8ad" button_text_spacing_hover="2px" button_bg_hover_color="#000000" button_border_hover_color="#000000" button_link="https://www.ps21barna.com/" button_link_type="url" button_link_target="_self" has_container="" in_column="1"]VOLVER A LA HOME[/ce_button]
CREATING A SYMBOL TO HELP
HOMELESS PEOPLE


In Barcelona 900 people sleep on the streets every day.
Arrels Fundació helps those homeless people by providing them with accommodation, food and healthcare. They give them back hope by following the #HousingFirst method.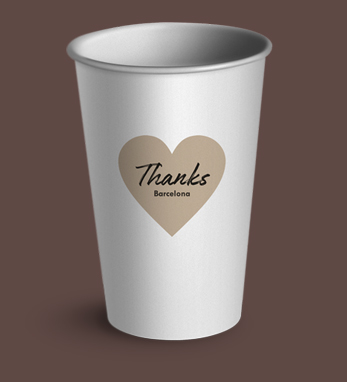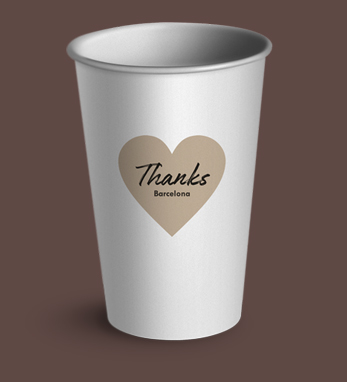 THE CUP THAT HELPS EVERYONE.
Every day thousands of people walk through the streets of Barcelona asking for some help to be able to survive, with just a mere cardboard cup.
So we joined forces with Arrels and decided to turn this sign of marginalization into a tool capable of helping all those people that are currently forced to live on the streets of our city.
That's how we created the initiative for a cup that helps everyone, without exception. Our initiative has reinforced Arrel's position as the organization that cares for every homeless person in Barcelona.
SAYING THANK YOU FIRST.
We had a very ambitious objective: to help raising one million Euros in order to offer stable accommodation for 125 homeless people for a year.
The campaign was based on selfless actions, rewarded with the altruistic assignment of spaces by the town hall and some businesses in the sector.
So the first step to mobilise institutions, businesses and citizens was made.


BACK TO STREETS.
The users, the people that thanks to the Fundacion have a home, together with volunteers and workers, went back to the streets. They used outdoor advertising to ask for help for all the people that are still sleeping on the streets.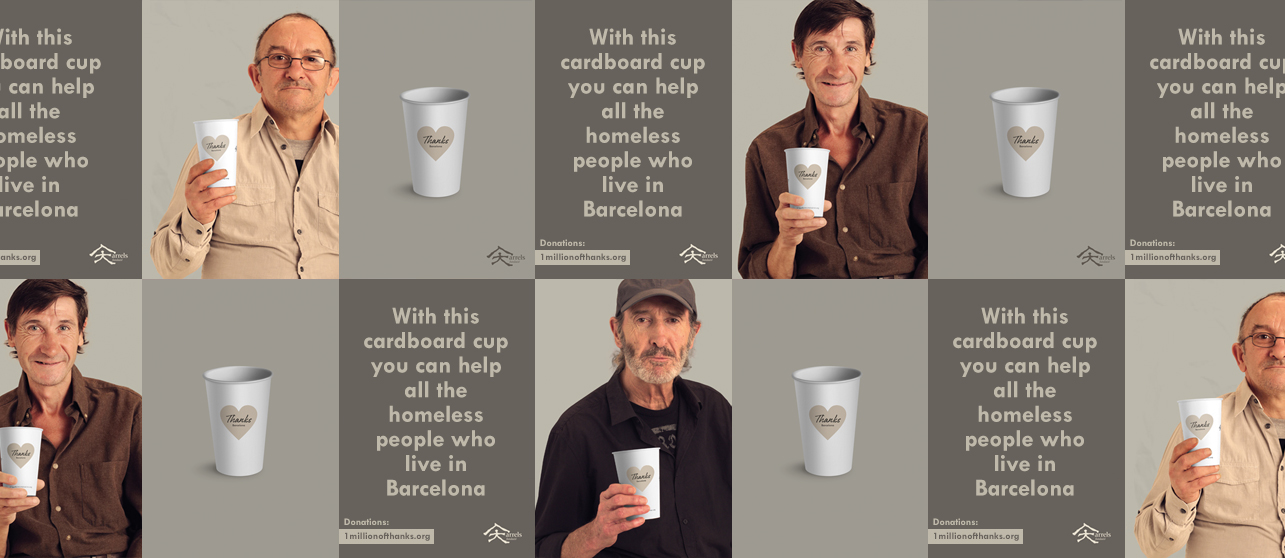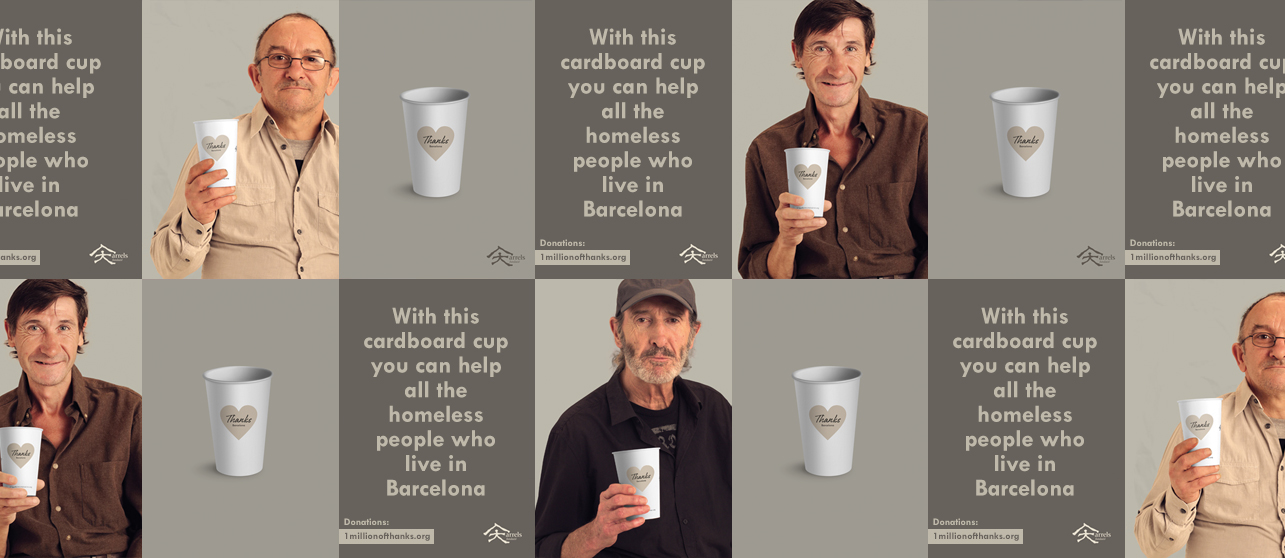 We distributed the cardboard cup through stores in the city to spread our message and to increase awareness and support for Arrels.
We created a website where we invited everyone in society to donate and share their cardboard cups with the local community.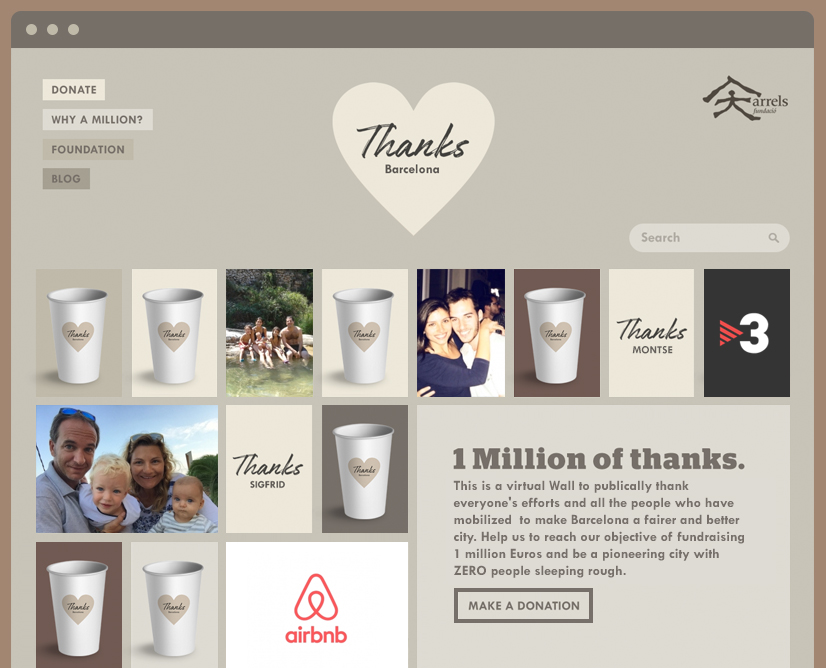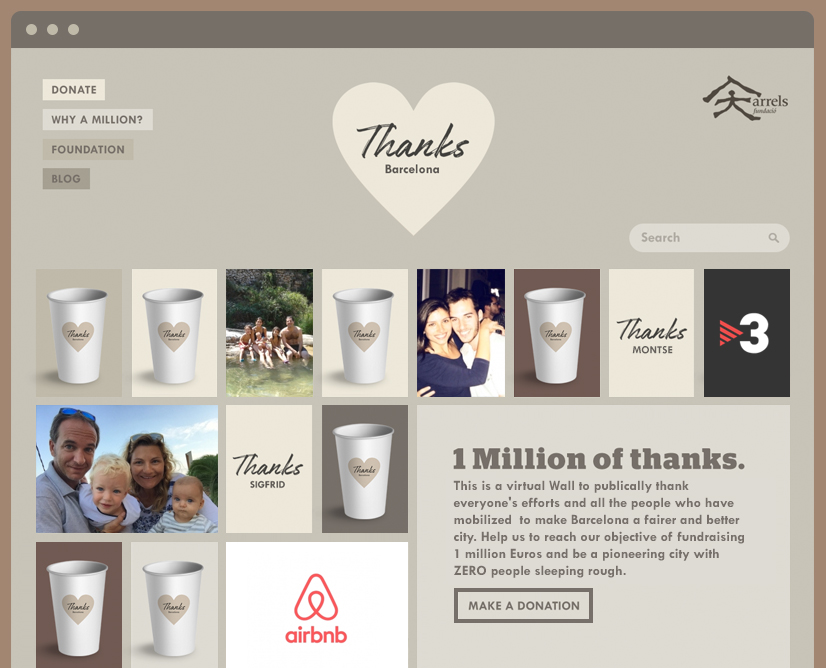 1 MILLION THANKS BARCELONA!
Although we didn't reach the objective as a whole, the campaign was a success, achieving the highest amount raised in Arrel's Fundació's history.
Almost 782.000€ which guarantees more than 33.000 nights of accommodation for those who need it.
Moreover, we increased the number of permanent partners for Arrels, including businesses like AirBnb, Accenture or TV3, who all committed to achieve the objective. #noonesleepinginthestreets.
Not bad at all for a pro-bono campaign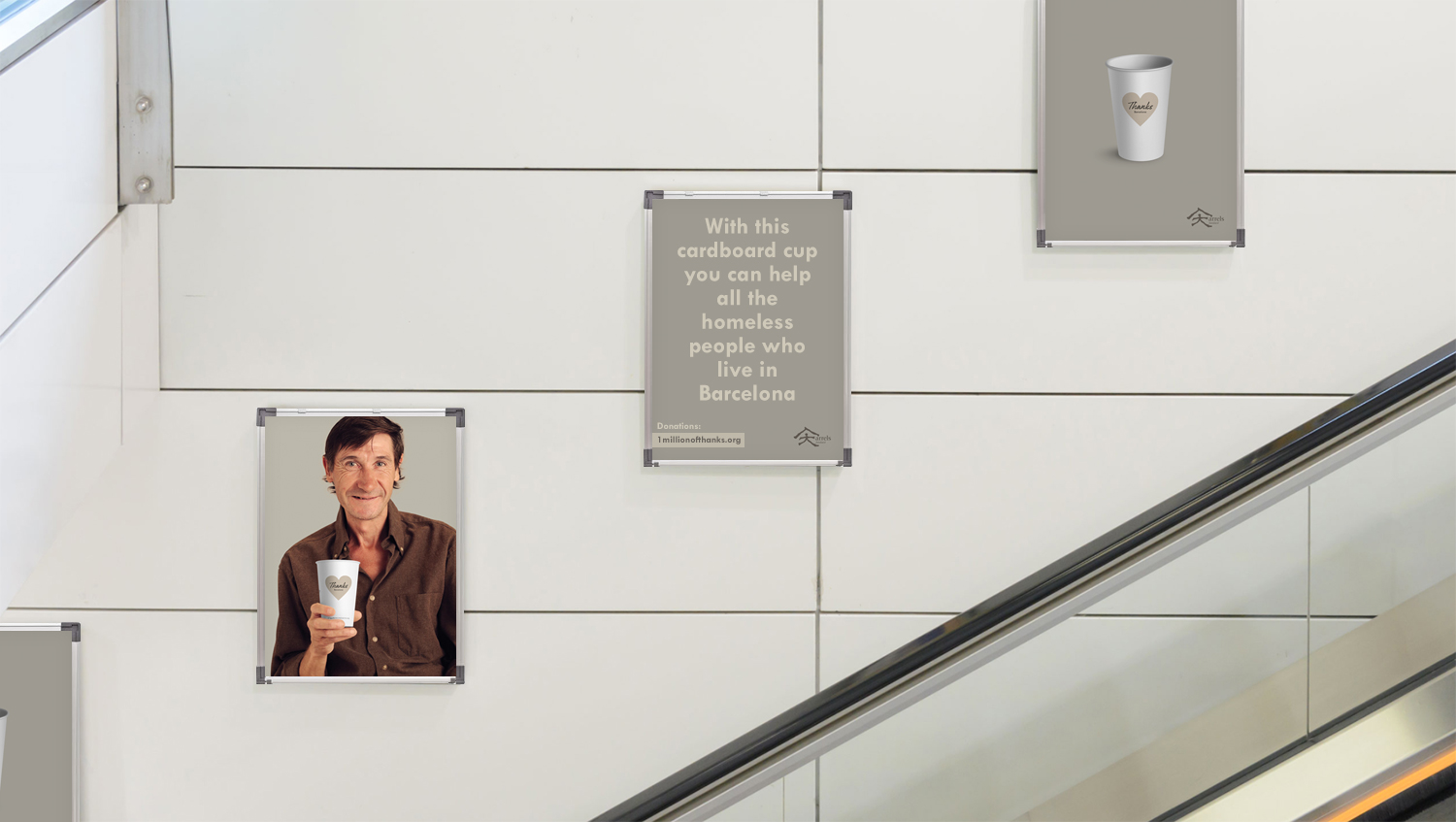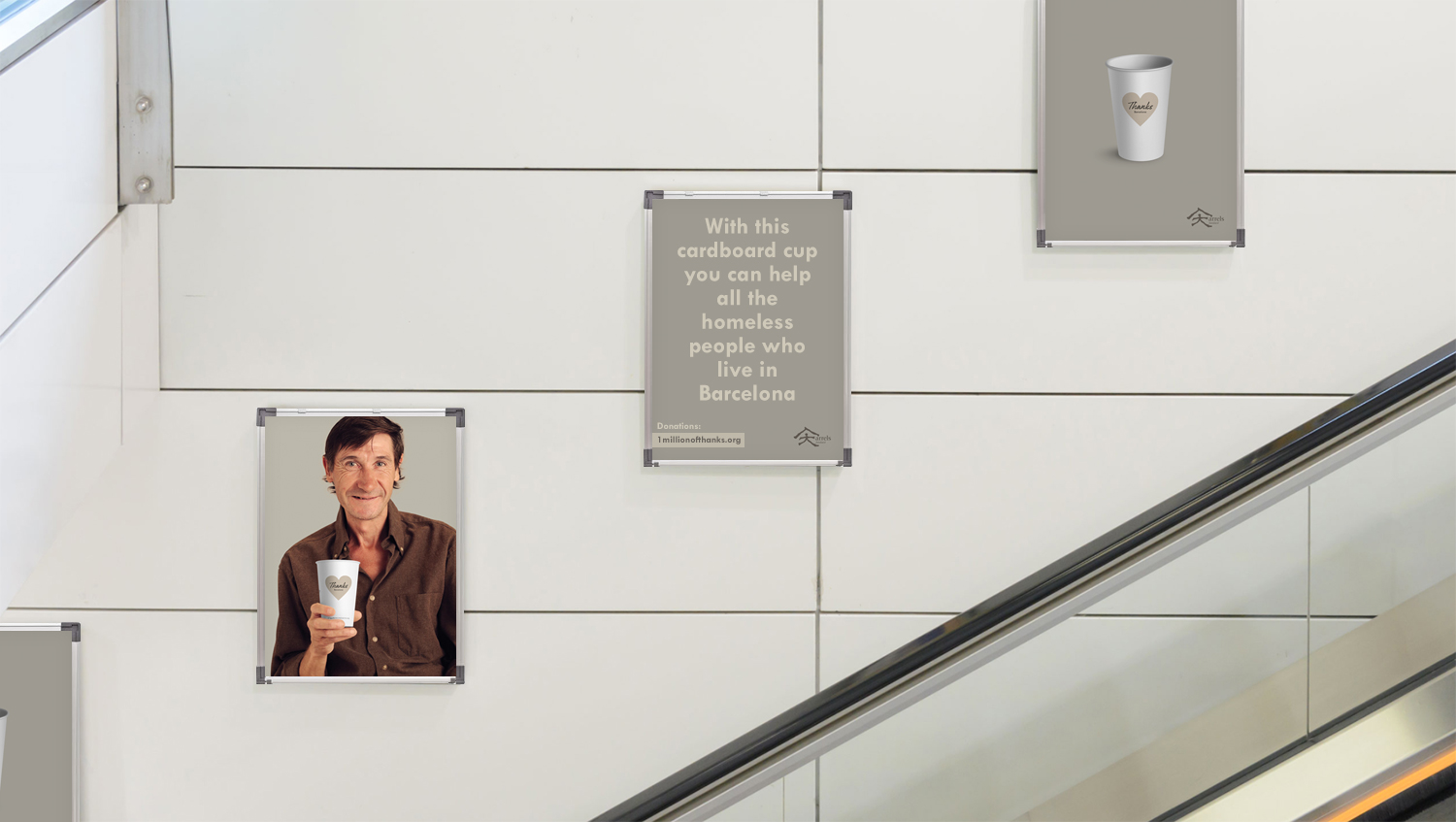 [unex_ce_button id="content_59qtkfnks,column_content_zkpgzazdy" button_text_color="#ffffff" button_font="bold" button_font_size="20px" button_width="auto" button_alignment="center" button_text_spacing="2px" button_bg_color="transparent" button_padding="15px 60px 15px 60px" button_border_width="0px" button_border_color="transparent" button_border_radius="0px" button_text_hover_color="#797979" button_text_spacing_hover="2px" button_bg_hover_color="#000000" button_border_hover_color="#000000" button_link="https://www.ps21barna.com/" button_link_type="url" button_link_target="_self" has_container="" in_column="1"]VOLVER A LA HOME[/ce_button]